For ease of use, a number of options have been provided for navigating the VirginiaEstateLaw.com website.
The Home Page - Table of Contents.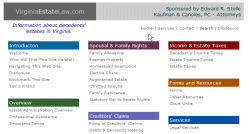 The Home page provides a table of contents or site map for the entire website.
You can go to the Home page by clicking on the Home link located in the top and bottom menus on each page of the website. See the top menu example below.
Like a Book - Page by Page.
There is next section link at the bottom of each page. Clicking on this link will take you to the next page of the website - allowing you to move through the website in much the same way as turning the pages of a book. If you want to go back to the prior page, simply click the back button on your browser.
Chapter Index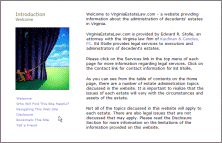 You will notice that each chapter has an index located under the graphic in the left margin of each page. You can use this index to navigate within current Chapter. The Chapter index changes with each Chapter.
Browser Navigation.
You can, of course, move back and forward to pages that you have already visited by using your back and forward buttons of your Internet browser.

Message Windows
For convenience certain terms have links to a message window (see the graphic below) providing the meaning of a word or phrase. If your browser has javascript enabled (an most do today automatically) the message will appear in a smaller window.
When you are done reading the message, simply click the "close window" link inside the message box or click on the

in the upper right corner of the window to close the message window.
If you do not have javascript enabled the link will open a full sized window showing an important terms page.